10 of the World's Most Romantic Tree Tunnels
The most beautiful tunnels in the world are made of trees, yet many people don't recognize that fact. For every place you visit in this world, you are highly likely to come across a tree tunnel. They are some of the major attractions for tourists globally.
Trees are good because apart from being a natural material, they offer shade as well as shelter. There are several other benefits that you will enjoy by touring tree tunnels and you should be on the lookout for that. In case you have no idea about some of these tunnels, you can consider the following ten that offer romance and a memorable experience for tourists.
Tunnel of Love, Ukraine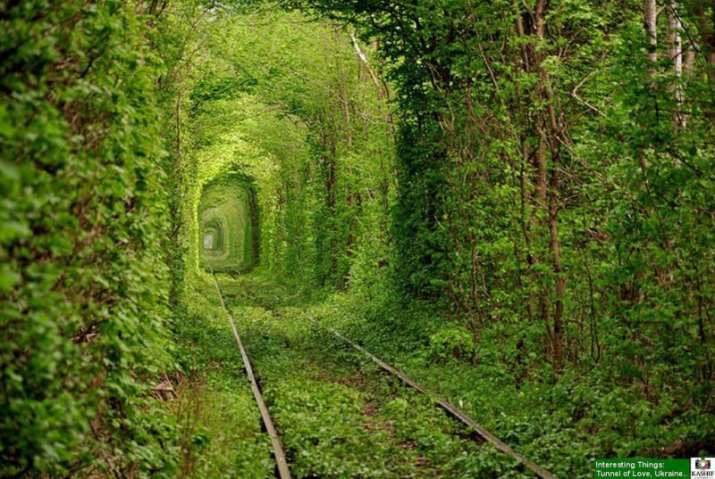 This is found in Ukraine and if you ask anyone who has been there they will say it's amazing. The tunnel is part of a forest thus offers the right romantic environment. Newlyweds usually visit this place for their honeymoon as the place shapes up as a key destination for romance in the world. With this one, you do not have to spend a lot of money taking your partner to an expensive hotel. Just spare a few coins and your time to visit the Tunnel of Love.
Bamboo Path, Japan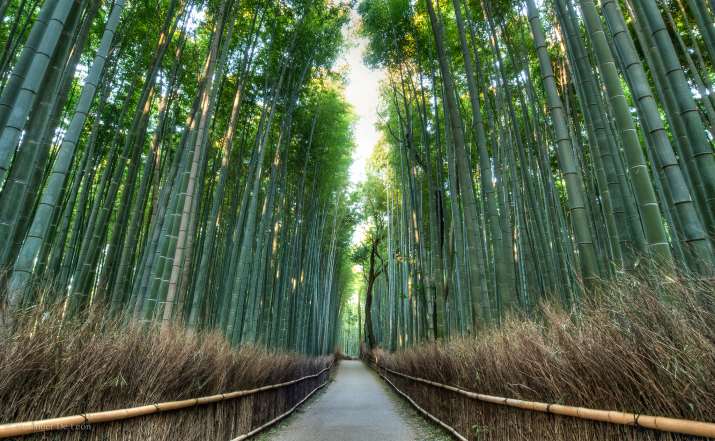 When in Kyoto, you will get to see this extraordinary and highly romantic tree tunnel. It is part of a bamboo forest by the name Sagano and this path that measures 500 meters in length passes through it. The local authorities have already recognized the tunnel as a historical site. With the tall trees surrounding the path, there is always a cool environment prevailing all the time. In its surroundings, there are some famous shrines and temples.
Yew Tunnel, Wales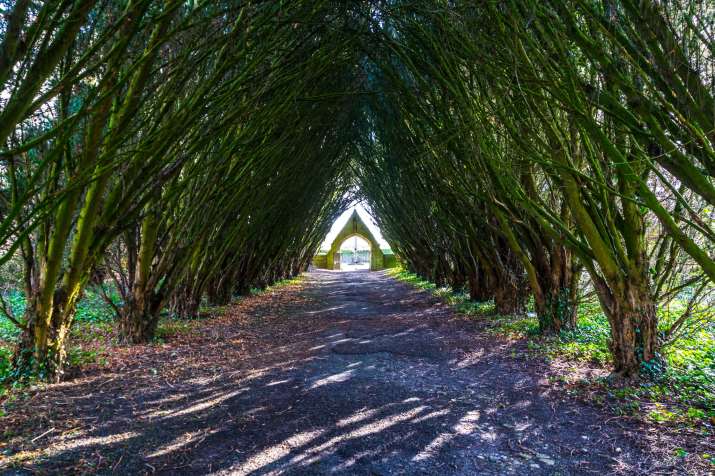 This is a tree tunnel in the UK promises to offer real romance to tourists. Records show that the Dyer family was responsible for planting this tunnel back in the 18th century and it's unique across the world. The trees grew old until they bent to form what looks like an arc and the subsequent fusing of trunks and branches make it impossible to count. The tunnel keeps on growing every year and has become a top attraction for tourists in the UK.
Jacarandas Walk, South Africa
This tunnel in Johannesburg helps to keep arguably the biggest green city alive. It is estimated to have more than 10 million trees making up the tunnel and this South African city is credited for housing the biggest man-made forest in the world. Up to 49 species of the jacaranda tree grow at the tunnel. The best time to visit this place is in October because flowers of the jacaranda trees blossom very well. The purple and blue colours of the flowers make the landscape stunning to watch.
Wisteria Tunnel, Japan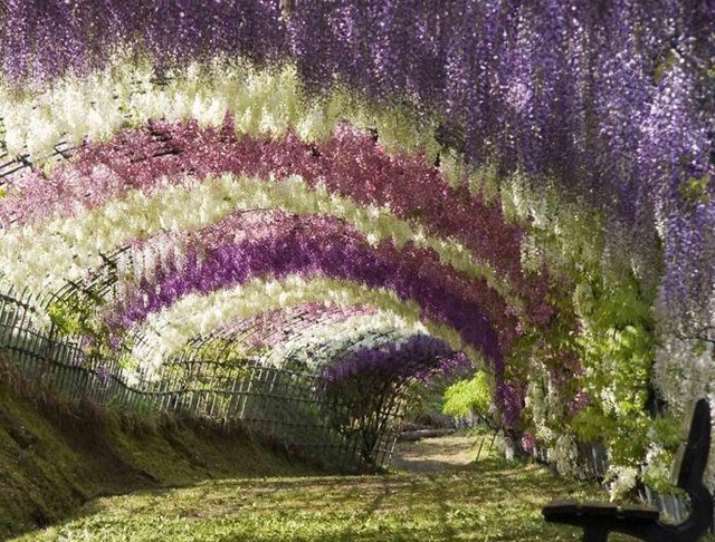 This is another of the many Japanese tunnels making the top ten lists. This is basically a magnificent flower footpath located at the Kawachi Fuji Garden. You will enjoy a peaceful time taking a stroll through the tunnel. April and May are the months when flowers of these trees blossom and you will enjoy a colourful environment. You should make it a must-visit once in Japan.
The Dark Hedges, Northern Ireland
You will have no reason to avoid visiting this tree tunnel whenever you are touring Northern Ireland. Out of the many sights in the country, this tunnel is the most frequented and highly photographed. Every visitor wants to return home with some memories of their experience. Most of the tourists there come to conduct weddings which underline its romantic value. The Dark Hedges tunnel is a valuable generator of foreign exchange through tourism for Northern Ireland.
Rua Gonçalo de Carvalho, Brazil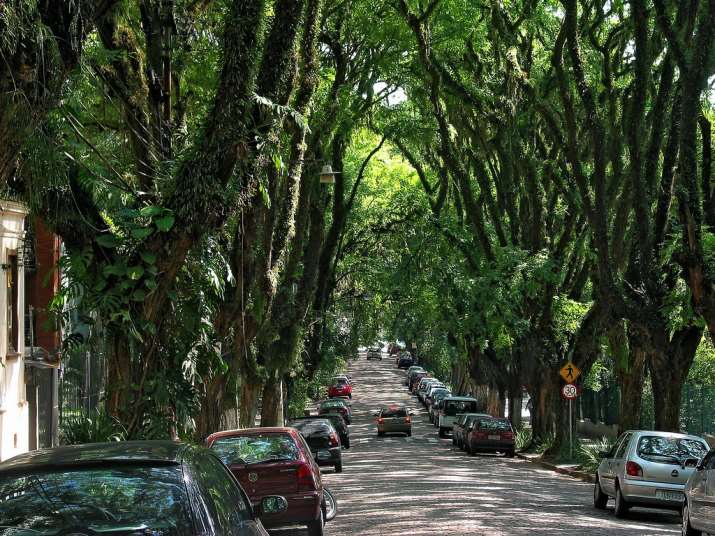 Brazil is commonly known for its footballing talent but it is also on the frontline as far as tourism is concerned. This tree tunnel is one of the highlights for Brazilian tourism and it consists of mainly rosewood trees. There are over a hundred trees that cover the road stretching past three city blocks. The country holds this tunnel in high regard for both cultural and historical reasons. The main advantage of rosewood trees is that they help in reduction of demand for air conditioning by up to 30%.
Cherry Blossom Tunnel, Germany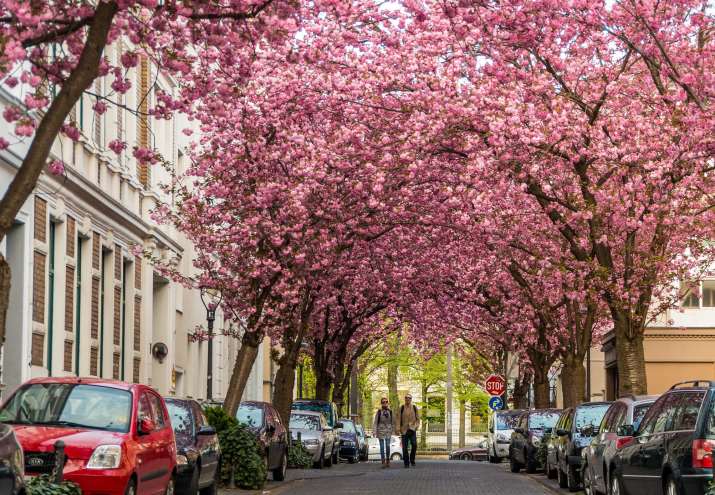 This is a German tree tunnel found in Bonn. The environment there is generally peaceful and a good place for a vacation. Spring is the ideal season to visit this tunnel because that's the time cherry blossoms flourish. They can last for a period of between 7 and 10 days but that will depend much on the prevailing weather conditions. If you time your visit very well, you will have the opportunity to have the maximum fun at this tunnel.
Ginkgo Tree Tunnel, Japan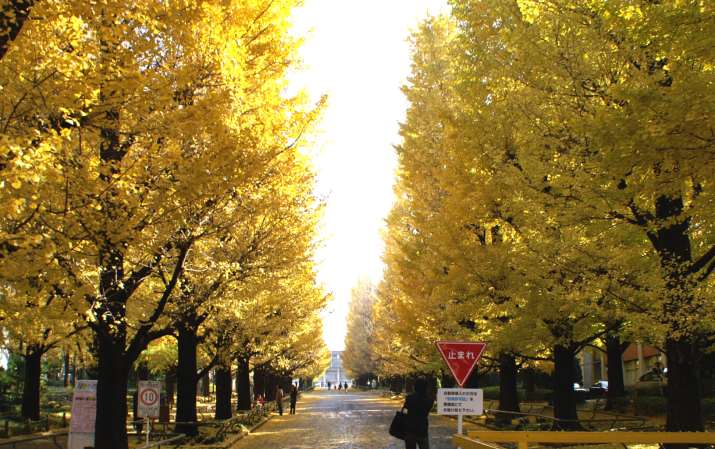 Japan makes a comeback to the list with this romantic tree tunnel that is fully dominated by Ginkgo Biloba trees. The local culture reveres this tunnel highly and the trees are believed to survive for as many years as it's possible. The real testament to that is the Hiroshima bombing which affected other trees and animals but these ones were left standing. Up to 65,000 trees are said to grow at the tunnel that distributes well across parks, gardens and streets. You have to make it your top priority among the places to tour whenever in Japan.
Autumn Tree Tunnel, USA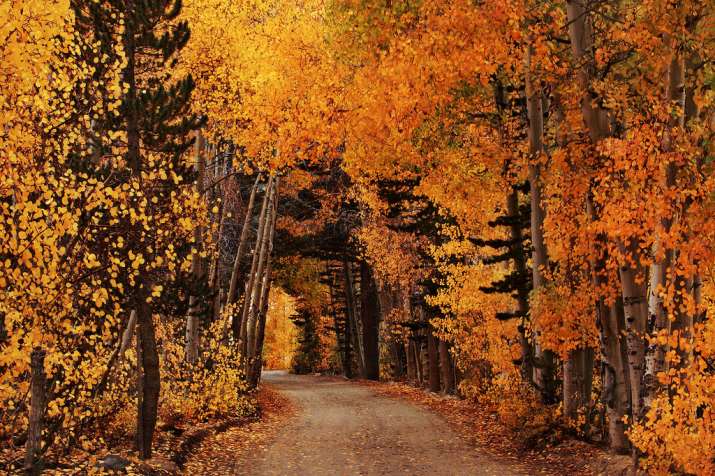 This amazing tunnel is found in Vermont, USA. The autumn colours that come out of the tunnel make for a good spectacle to behold experiencing at any given time. The foliage at the tunnel is eye-catching and keeps on changing colours as you proceed to the north. That is due to a number of environmental factors which come at an advantage for tourists. When the fall season sets in, the foliage will extend to the south giving visitors more and more room for exploration.
Any of these tree tunnels will be good for your visit depending on the country you are visiting. Alternatively, you can decide on the country to tour depending on the tree tunnel that you want to experience.