Where to Find the Strangest Hotels in the World
For the frequent travelers, it is easy to assume that they have known hotels across the globe like the back of their hand. It is a common supposition that hotels all offer pretty much the same amenities, just in varying degrees of stylishness and luxury. Indeed, it is typical to find the usual offers like pool, spa, gym and others. Are you this jaded too when it comes to hotels? Then you probably have not seen the strangest hotels in the world yet.
Yes, there are a few hotels which will redefine the word "accommodation" for you. These are the hotels which will give you an experience that you would not forget for the rest of your life.
The Dog Bark Park Inn - Idaho, USA
This gives a whole new meaning to the concept of dog house. This place will also give you the same coziness as the usual bed and breakfast accommodation but with a little twist—you need to sleep in a structure that is shaped as a 12-foot beagle.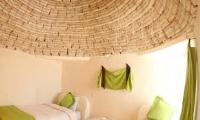 Palacio de Sal - Salar de Uyuni, Bolivia
As the name suggest, this really is a hotel made of salt. Yes, all 15 bedrooms, including the living room, dining room and bar are made of salt and water compound which hardens like cement so the structure remains intact. The only parts of this hotel which is not made of salt are the toilets and roof. If you decide to have tequila shots while staying in this hotel, keep in mind that you are not supposed to lick the walls.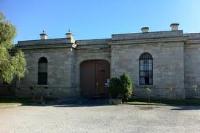 The Old Jail - Mount Gambier, South Australia
You do not have to commit a crime just to experience how it is to be in jail. Yes, this hotel would give you comfort which is quite far from being in an actual prison but the structure is literally the same. You will be staying in an enclosed cubicle but of course, you will have control over the locks and not the jail guards. Why do people go here? Aside from the unconventional experience, this hotel is also very pocket-friendly.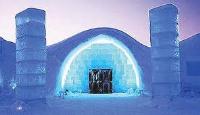 Icehotel - Jukkasjarvi, Sweden
The next time you say that you are staying in a hotel just to 'chill', then you might want to consider this hotel and Sweden and literally feel how it is to be enclosed in snow and ice. Interestingly, this hotel gets rebuilt every single year. That is because entire structure is made of ice and snow so it melts when the hot temperature kicks in. All the rooms and sections of the hotel are reconstructed during November, so even if you visit this hotel more than once, it will always be a new experience since the aesthetics change constantly.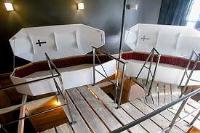 Gruft Propeller Island City Lodge, Berlin
For those who are deeply engrossed into Goth or those who are seriously inspired by all the vampire movies these days, the search is over for the sanctuary which will satisfy their preferences.
Would you dare sleep inside a coffin too? Apparently, some people would love that since this hotel is still operating. Their beds are shaped like coffins which including the top enclosure. There is an interesting labyrinth at the lower part of the hotel too.