Visiting Yueyaquan : A Desert Oasis in China
China may be well known for its beautiful mountains, buzzing cities, and countless products, but a good portion of the country is actually a desert. In ancient times, the desert was part of the famous silk trade route that connected China with its neighbors in the east and west. Along the old Silk Road were several trading hubs, one of which was Dunhuang, a city almost in the middle of the desert.
Back then, Dunhuang was an economic hub. Today however, the city mostly relies on tourism for it has a number of popular tourist spots. One of these is a desert oasis called Yueyaquan, a small crescent-shaped lake. It may be small in size, but it definitely has a rich history.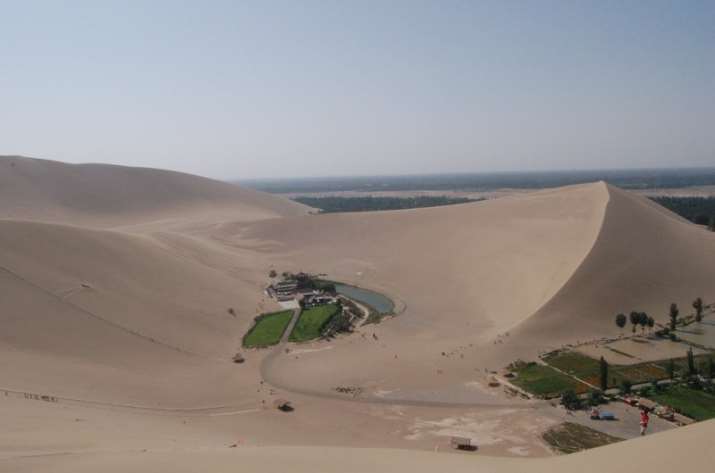 The oasis is believed to have existed for 2,000 years and has outlasted several Chinese Dynasties. There was a time in the mid 70's when the lake started to recede due to irrigation pumps and soil erosion. A dam was once built in the area, but this was also draining water from the lake. However, the local government started pumping water back into the lake to prevent losing it to the desert. Unfortunately, it is not known if the government's efforts will continue to be successful. Some say that the lake will eventually be swallowed by the desert.
Because of this, crescent lake has become a popular tourist attraction and visitors from all over the world have been amazed at the small oasis in the desert. On one side of the lake is an ancient pagoda and building that had to be rebuilt in the ancient style. It now stands as marvelous at it once did.
If you're planning to visit, crescent lake may be a bit too small a site for the trip. Fortunately, there are other popular tourist attractions in Dunhuang which you can visit while you're there. Here are some tips that can help you on your travel.
How to Get There
The easiest way to get to Dunhuang is by air, although there are buses and trains that go there on a regular schedule. Donhuang airport is several miles from the city and public transportation to and from the airport can sometimes be erratic. It's best that you prepare some refreshments before the trip just in case you need to wait at the airport for a couple of hours.
Where to Stay
Once in Dunhuang city, you'll be able to find suitable places to stay, if you plan to be there for a couple of days. There are guesthouses, hostels, and hotels in the city that provide accommodations for every type of traveler. Budget travelers may prefer to stay at one of the hostels, and those with a bit more money to spend can stay at the hotels.
What to Do
Visitors to the lake are presented with several activities. You can go on a guided camel ride and explore the lake and surrounding desert, or you can choose to go on a 4x4 instead for a fast-paced adventure in the desert. You can also go shopping for souvenirs at one of the stalls near the lake. Other than going on a camel ride or on one of the 4x4's, you can also opt to go on a hike. In fact, there are travelers who want to get a feel of how it was like traveling the old Silk Road during the ancient times.
There will also be variety shows during the summer where you'll be treated with performances based on the old Silk Road traditions. While you're there, you might as well visit other popular attractions in the area such as the Mogao Caves, the sand dunes at Yueyuquan National Park, the Huyang Forest, the White Horse Pagoda, and the Piper bounce statue.
Getting Out
Once you've had your full of the crescent lake sceneries and the surrounding tourist attractions, you'll need to head back to the main cities or continue your travel to other places in China. Fortunately, Donhuang City is connected to other China destinations via air travel, bus, and train.
There are flights from Donhuang airport going to Beijing, Xian, Lanzhou, and Urumqi. If you're heading to Lanzhou or Xian, you may opt to take the train going there instead of flying. The buses have more destinations so if there's a city you can't get to via air or train, you might want to check the bus terminals and see if there's a bus travelling to the city you want.
Photos of Yueyaquan