Rio Secreto, Mexico : The 'Secret' Underground River in Mexico
Five Kilometers from Playa Del Carmen at Quintana Roo is one of the hidden treasures of Mexico - Rio Secreto. It is an underground network of caves and rivers 15 kilometers long.
A subterranean river with its clear waters flows through the caves. In some areas, the river is shallow enough to walk through while exploring, but in others, you'll need a boat or you can swim if you're an experienced swimmer. Navigating through the network of underground caves is an experience that can never be forgotten. If you haven't been there, then here are some tips on how to locate and explore the secrets of Rio Secreto.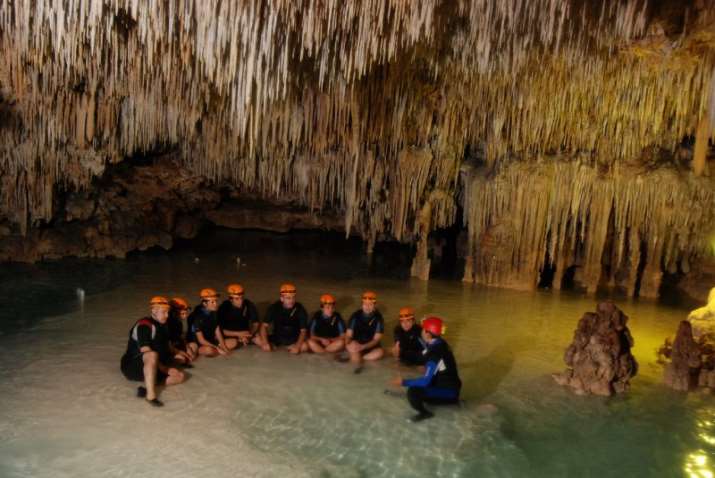 What to Do
If you've never done any cave exploring on your own, you will likely need to join a tour group to explore the caves and the underground river. The tour guides are willing and eager to share lots of information about the cave system, so be ready to learn everything there is to learn about Rio Secreto.
Unlike many underground caves in the area, Rio Secreto is semi-sunken, meaning you won't need specialized diver training to explore them, although they do have water. You won't need any cave exploration experience, but you should at least be prepared to do some physical activity, like walking or swimming. It can be a bit tiring to wade through kilometers of waist deep waters. In fact, the tour operator does not recommend people with heart problems, difficulty in walking or pregnant women to join the tour. If you have claustrophobia, you may opt to find other places to visit.
What to Bring
You might be thinking that since you're going on an underground river tour, you'll need to bring a camera or a video recorder. Unfortunately, you will not be allowed to use these during the tour inside the caves. However, you may use them outside before or after the tour.
The management of Rio Secreto are keen on keeping the whole area untouched. The places you'll go through will be slippery and you may fall. You could break any equipment with you and also some of the protected rock formations.
You might also want to bring along some bottled drinking water, in case you feel a bit thirsty from walking and swimming throughout the tour.
How to Get Here
Unlike many breathtaking sites around the world, Rio Secreto is very accessible. In fact, public transportation is available all the way to the entrance. You will first need to get to the main cities of Cancun, Cozumel, or Tulum. From there, you'll need to drive or take public transportation to Playa Del Carmen. The trip from Cancun will take about an hour and a half, while from Cozumel or Tulum, getting to Playa Del Carmen will take about an hour.
Playa Del Carmen is a stone's throw away from Rio Secreto. You can drive there or take a public bus or van to the entrance. It's only about a 10-minute trip, so make sure that you inform the driver to drop you off at the entrance.
More Pictures of Rio Secreto