Luxurious Capri Palace Hotel & Spa Offers Enticing Hideaway in the Bay of Naples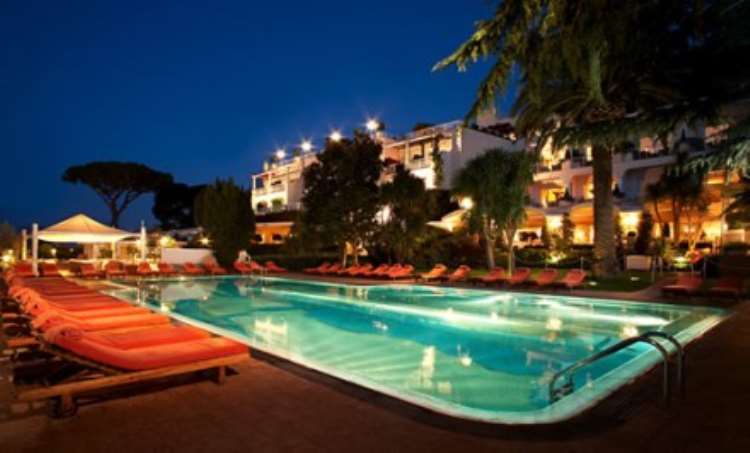 The ultimate luxury hideaway is one that will make you feel like you're the only person in the world, and yet is still packed full of modern convenience that you'll never want for anything. That's exactly what this hidden jewel in the bay of Naples offers.
Perched over the bay of Naples and overlooking the island of Ischia, the Capri Palace Hotel & Spa dominates the luxury travel industry in the area. Boasting of alabaster interiors and decked with contemporary artwork originating from all over the world, it is luxury accommodation at its finest. And then there are the themed suites, with some of them bearing the name of movie stars and celebrated artists. But the ultimate luxury experience can be found at the expansive Penthouse, where you'll find a circular swimming pool and a hanging garden.
Situated in the virgin countryside of Anacapri, the hotel's great views of the bay makes one feel like a castaway but its proximity to downtown Anacapri offers one more than just the basics.
There, in downtown Anacapri, hides many chic fashion boutiques and famed sightseeing destinations; with a car hire, you'll be able to see them all without any trouble. But you'll certainly be looking forward to driving back to the elegant and expansive hotel, which offers you its own assortment of boutiques and many more.
While there, you can browse through the in-house art gallery, or request for a ride on one of the hotel's private boats. You can also check out the Capri Beauty Farm, which has been awarded for its many patented cosmetic treatments; you can even try some of them.
The hotel also has great dining options nearby; just a few minutes away and well worth the trek is the seafood restaurant Il Riccio. On the way there, you can even pass by the famous Blue Grotto.
Right within the hotel, you'll find the L'Olivo, which has two Michelin stars to its name. L'Olivo has a lot of gourmet meals to offer and you can top them off with any of the 10,000 plus bottles of exclusive fine wines the hotel has in store.
You can also enjoy outdoor dining at Ragu Bistrot, which offers a fascinating view of the sunset from its romantic terrace. If you're craving for some quiet, relaxing time, you can enjoy the live soft music at the Bar Degli Artisti.
You can visit the Capri Palace Hotel & Spa website here