10 of the Strangest Rock Formation in the USA
The USA is a country of many things including very strange tourist attractions. Some of them have never been seen in any other part of the world, making it a special and unique destination for tourists from across the world.
This article will take a look at the top ten strangest rock formations that draw tourists to the USA.
Mono Lake, California
This is found in California and is located at about 13 miles to the east of Yosemite National Park. Most of its minerals and salts come from the Sierra streams which end up creating tufa towers that rise above the water in a majestic manner. It is one if the most breathtaking views to cherish in your lifetime. There is also a visitors' center at the lake where you can make a stopover and learn a few things about this strange rock formation.
Goblin Valley, Utah
When highly spectacular geological sites across the world are listed, you will find this on the list. It has all the type of rock formations you would want to see and include the Canyonlands, the Arches and Bryce Canyon national parks. Out of all these, Goblin Valley State Park will be the standout formation since it has rocky pillars and hoodoos that are shaped like mushrooms.
Shiprock, New Mexico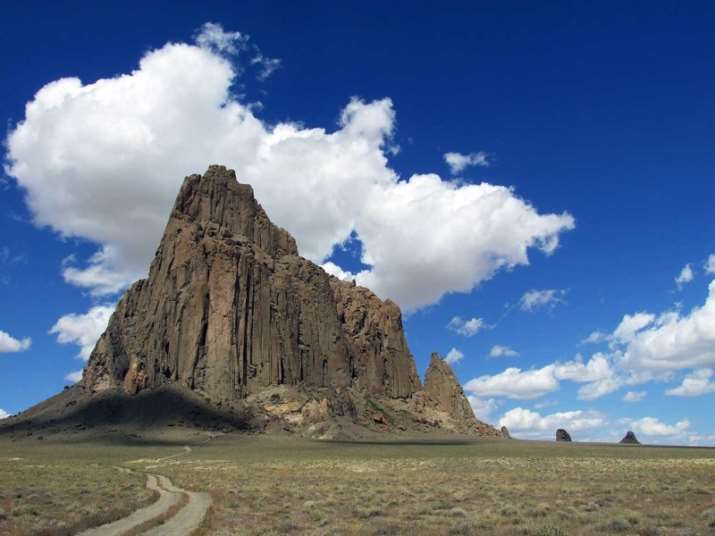 This is mainly a remnant of a volcanic eruption that occurred over 30 million years back. It stands at 1,600 feet high and stands out as a prominent formation in the largely desert scenery. You will not find key amenities at this place and it's known to be sacred, so no form of climbing or hiking is allowed. You can take a stroll around to enjoy the serene environment and take photographs to capture the stunning landscape.
Makoshika, Montana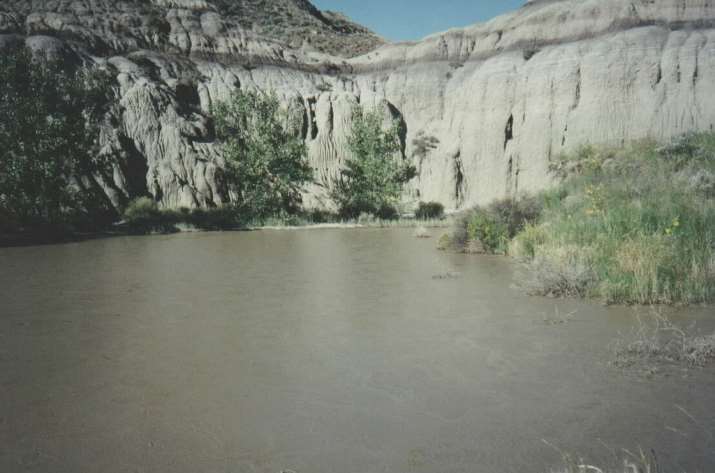 This is a state park that is dominated by strange but beautiful rocky formations. You should consider taking up any of the short walks that will not be more than 2 miles long for better views of this place. Some of the popular trails around this rock formation include Kinney Coulee, Diane Gabriel and Cap Rock Nature. You will find these trails outside the park and all incline to a canyon. The visitors' centre has dinosaur skulls on display as well as many other rare animals of the family that you can have a glimpse of.
Devils Tower, Wyoming
This is more of a national monument in the USA that has been attracting tourists from across the world all year round. It is highly imposing thus noticing it when around will be easy. With its height of 867 feet, you will enjoy some of the best and most fascinating views of the landscape. This tower has a record eight miles covering trails that go through pine forests and grasslands. It is very popular and frequently visited by climbers even though there are some tribes' belief with occasional limitations to that.
Monument Rocks, Kansas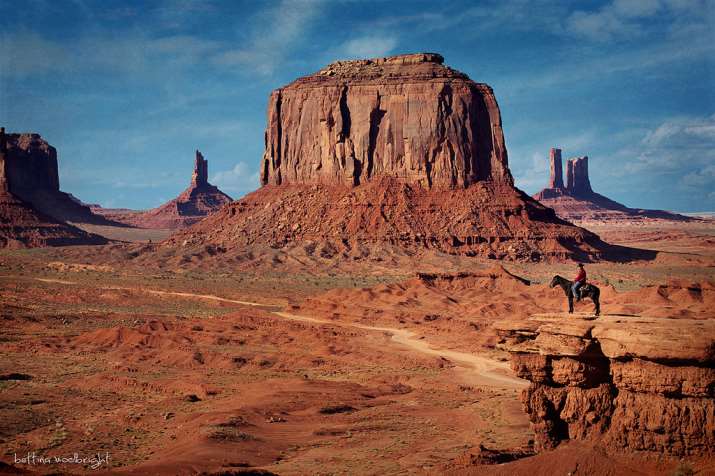 These are to be found in Kansas City and are a collection of rocks. Locally, it is regarded as a national landmark with its monoliths that were carved by wind and water. A detailed visit to this rock will reveal more and more fossils but your movement might be hindered by the fact that it's private property. Also, the rocks at this formation are very fragile thus can break off anytime, causing harm to visitors. You are advised to exercise caution when visiting the place.
Natural Bridge, Virginia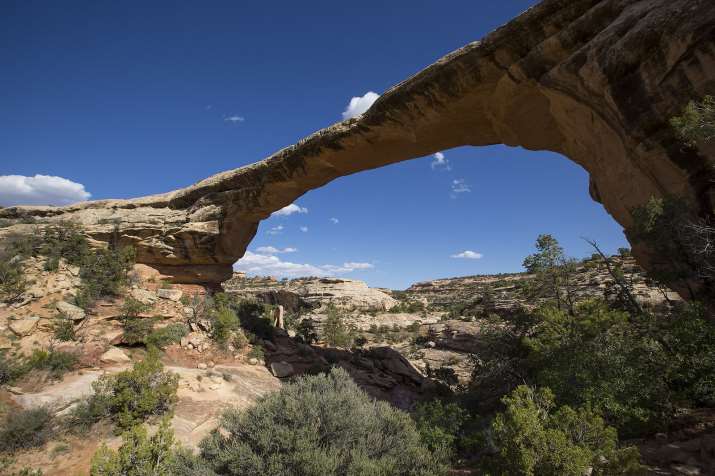 This is a very imposing natural wonder as well as momentous landmark in the USA that every visitor wishes to visit. It is among the earliest natural wonders that were documented in America thus holds a big chunk of the country's history. It has for many years been the property of Thomas Jefferson who purchased it but will revert to a state park in 2015 following orders by the State of Virginia. Monacan Indian Living History Village and Cedar Creek Trail are some of the sites to explore at this bridge.
Volcanoes National Park, Hawaii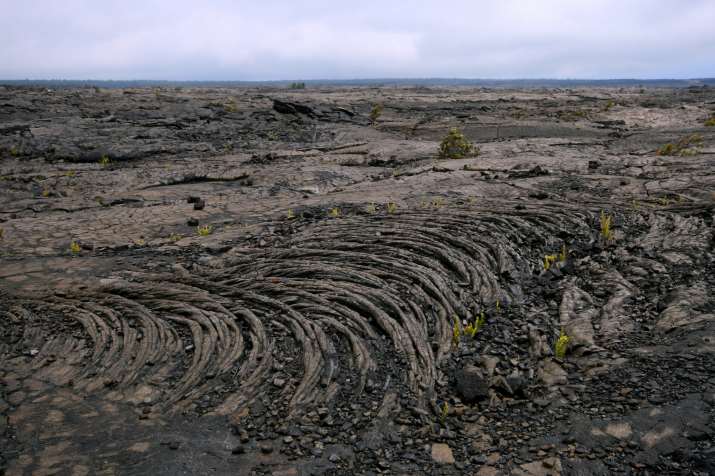 Many people think islands have nothing to offer in tourism value but Hawaii has some of the best and natural rock formations. Volcanoes National Park is one such rock formation and is as a result of the many volcanic activities at the island. This park stands at 13,677 feet over the sea level and has many geological features that include living lava, pit craters and cinder cones. Kilauea and Mauna Loa are the two key volcanoes that remain active at the park to date.
Garden of Gods, Colorado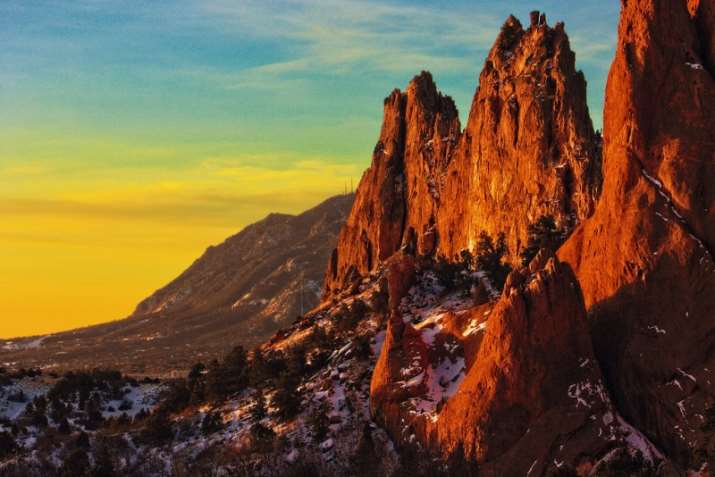 If you are planning to visit Colorado, this rock formation should be part of your itinerary because it has a high touristic value. It sits at a landmass of 1,300 acres with boulders, spires and rock cliffs its standout features. Balanced Rock is by far the most prominent of the formations and will offer the best opportunity to take a memorable photo. Experiencing the Siamese Twins trail will allow you to have breath-taking views of Pikes Peak which is capped with snow.
Turnip Rock, Michigan
This extremely spectacular sight in Michigan is very proximal to Lake Huron Sparkle and its clear blue-green water make the place wonderful to see. The rocky island is flat and covered with trees but has been reduced into a thin base due to constant wave erosion. There are loads of outdoor activities at this place like kayaking, walking and biking that you will get to enjoy once there. The rock is a different spectacle during winter months since melting ice from the lake covers it to create a completely stunning scene.
The good thing with these rock formations and many others not discussed is that they all have unique features to look up to. Make sure you have considered what rock formations in America can offer you. That will be the best way to choose the ideal place for spending your time while on vacation.