Karijini National Park, Western Australia
Known as the 2nd largest National Park in Australia, Karijini National Park overflows with nature's beauty. The park boasts of having some of the most beautiful gorges and waterfalls in Australia, not to mention the wide variety of flora and fauna.
Like many National Parks in Australia, the most popular activity in Karijini is walking. There are walking trails that will lead you through a maze of gorges and spectacular waterfalls. You probably won't be staying for just a day, so the park offers camping sites where you can set up tents and rest after a tiring day exploring.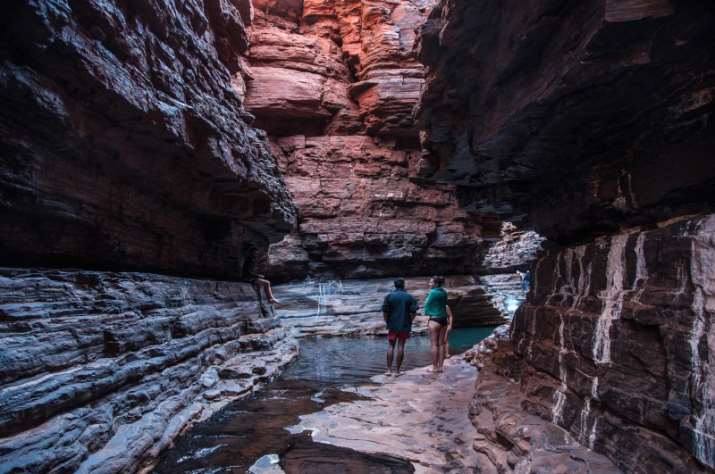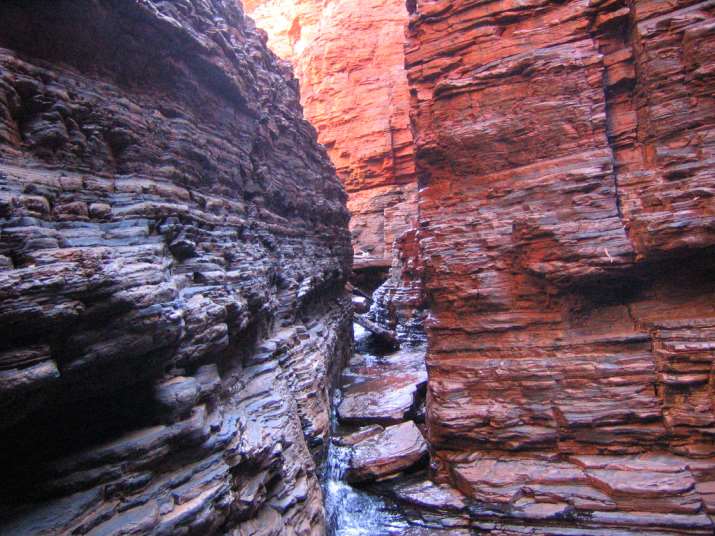 Since the park has a number of gorges and pools, another popular activity is swimming. However, you will need to be aware of the weather and watch for sudden rain. Flash floods can occur with very little warning. The water in the pools can be cold at times so it is best to limit the amount of time swimming.
Park Facilities
If you're planning on spending some time at Karijini, it is best to get a full list of the facilities available at the park. There are camping sites at various gorges and these will have toilets, fresh water, tables, and even gas burners if you need one.
If you intend to bring a generator with you, note that these can only be used at certain times of the day and at certain locations only.
Gorges
One of the most popular gorges is Hancock Gorge. It requires walking or swimming in waist height water to reach the end, most of which is extremely cold all year round, but it is well worth it. A few photos are shown below.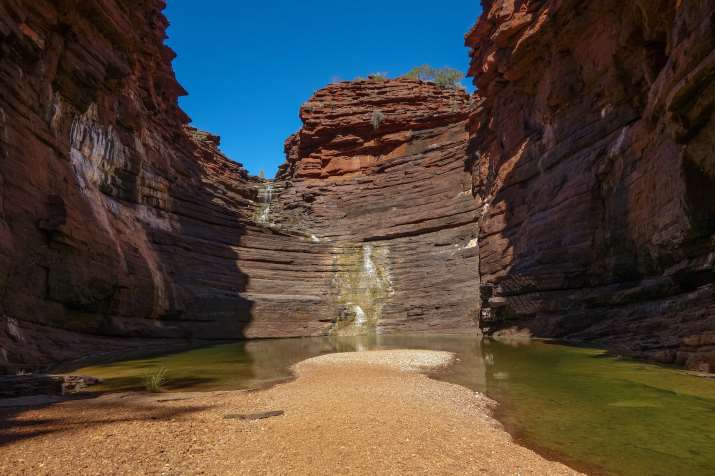 Safety is a Priority
Since gorges, pools, and waterfalls are the main attractions of Karijini National Park, you can expect to encounter water often. This means that there will be areas that are slippery and may cause some difficulty.
Park authorities have taken extra measures to ensure the safety of the visitors. Every walking trail has a level of difficulty posted before the start of the trail. If you are not experienced in walking nature trails, it is best to select trails that are easy to navigate. Always make sure that you place safety first as it could be difficult to obtain immediate medical attention out in the wild.
Getting to Karijini
The park is located in the Hamersley Range in Western Australia and is easily accessible from different locations. Unlike many national parks in Australia, visitors to Karijini can use 2WD or 4WD vehicles. Many other parks can only be accessed by using 4WD vehicles because of the rugged terrain.
There are several different routes to Karijini if you decide to drive there. However, one of the best ways to get to the general area is to fly there because you have a choice between several airports. The closest airport is in Paraburdoo where you can also rent a vehicle for the rest of the trip. There are also airports in Newman, Karratha, and Port Hedland.
When on the driving portion of the trip, it is best to drive at a safe speed. Most of the roads are unsealed. They are regularly graded, but this cannot guarantee that they'll be even all of the time. There is still a chance you may encounter pockets or uneven parts of the road so it is best to keep at speeds where you have total control of your vehicle.