The Atlantic Road, Norway: An Adrenaline-Pumping Experience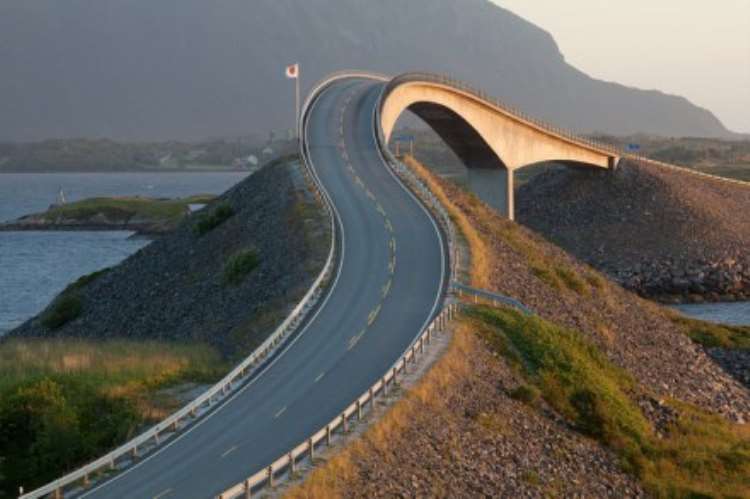 If you are looking for a truly exciting road trip, you do not have to look elsewhere: you have to drive through the Atlantic Road in Norway. Known in Norwegian as the Atlanterhavsveien, the Atlantic Road is a five-mile road that is part of the National Road 64. Connecting the towns of Kristiansund and Molde, the road traverses through an unsheltered area of the Norwegian Sea, Karvag in Averoy, and the village of Vevang in Eida. The road is in fact built on skerries and smaller islands, which mak
The bridges and causeways of the Norwegian Atlantic Road often dips into the water, which makes the drive not unlike a water ride in a theme park. Hustadvika, especially during storms and extremely windy days, make for a dramatic view that you can drive through. If you have chanced upon Hustadvika during calm weather, you will definitely see seals and whales in the waters.
At the starting point of Kristiansund, the road is about a half-hour journey through the Atlantic Ocean Tunnel, which allows you to reach Averoy Island.
What to See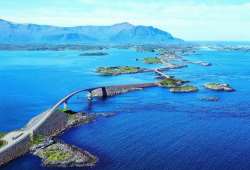 Whale sightings are not very common, but a lot of drivers keep their eyes peeled for these majestic animals. Even if you do not see a whale swimming by, you will definitely enjoy the dramatic views of the Atlantic Ocean, with great white waves slapping on the rocks.
The Atlantic Road is a feat in engineering and construction, with the road itself impressively connecting small islands while still offering stunning views for drivers. There are seven bridges in the stretch of the road, with the Storseisundet Bridge being the tallest in the lot. This bridge is a spectacular sight on its own—an engineering wonder that will definitely impress.
If you are a true adrenaline junkie, then driving through the Norwegian Atlantic road will never disappoint you. Many motoring enthusiasts drive through the road to experience the storms that rage through the Hustadvika. There is no other road in the world that will allow you to experience this—which is why the Atlantic Road is such a hit among drivers who want to test the limits of their technical skills.
After you have had your fill of adrenaline-fueled driving, make sure to drop by the Kvernes Stave Church, which was built in the 14th century. Strategically placed to provide majestic views of the Freifjord and the Kvernesfjord, this stave church is something that you would not easily forget. On the southern part of the Bremsneshatten Mountain, you can find the Bremsnes Cave, which was home to one of the oldest settlements in the country.
Fishing and diving are also popular activities in this part of Norway, so make sure you have your gear with you.
Final Tip
Driving along the Norwegian Atlantic Road is definitely a road trip of a lifetime. Just make sure to bring along a lot of courage, and your fishing and diving gear during the summer.
Does this road trip appeal to you? Don't delay. Hire your dream car today from us and have the time of your life! Book your Kristiansund Kvenberget Airport car hire to start your journey.
Route Details
Start Point:
Kristiansund
Distance:
5.2 miles (8.3 kilometers)
End Point:
Molde
Estimated Days:
1