Turkish Delight Road Trip: Driving from Izmir to Dalaman, Turkey
Turkey is one of those countries that are perfect for road trips—although the road trip culture in this country is relatively new, which means that there are plenty of things to discover on your Turkish adventure. The roads in Turkey are vastly improved over the years, and it is much easier to hire a car there these days. The stretch of road and land between Izmir and Dalaman is relatively untouched by the booming tourism industry—expect hours upon hours of a relaxing drive in smooth roads compl
Turkey offers not only delicious food (spot the kebab stands along the road frequented by locals—you are sure to find a satisfying and inexpensive meal), but also vast expanses of lush meadows and plains, mountains blanketed in pine trees, and charming villages. A decade or so ago, driving through Turkey was for people who were actively courting danger—the roads were poorly maintained and Turkish drivers drive fast, and often furiously. Thanks to the fast-growing tourism industry in the country, the roads are not only improved, but there are significantly more car rental companies with reliable vehicles to take you from Izmir to Dalaman.
What to See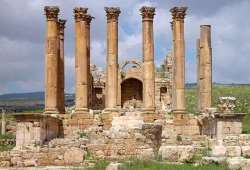 This part of Turkey is extremely charming—the beautiful scenery seems to be endless. The sweeping landscapes are always present whenever you look out the window, highlighted by majestic mountains blanketed in pine trees, wide expanses of agricultural land, and small quaint villages.
From Izmir, you can drive to Sirince to head into the mountains. Sirince is a renowned wine-producing village in turkey, and visitors should never miss out on the exquisite fruit wines made by the locals. Aside from the delightful fruit wines, the locals also sell honey, scarves, and leather goods. Ephesus is another must-see stopover, with its hillside mansions and other archeological gems that are thousands of years old. The Library of Celsus, a structure built in 125 AD, was painstakingly reconstructed from its original fragments and is now one of the best sites along the Izmir to Dalaman route. Do not forget to visit the Basilica of St. John and the last remaining column of the Temple of Artemis, which is one of the Seven Wonders of the Ancient World.
The Bozburun Peninsula is also another noteworthy stopover—with its tiny villages and lovely hills covered in pine, you will never be content by just passing through. Dalaman is the terminus of the route, but if you have a looser itinerary, you can drop by the numerous hamlets before the end point for dip, a bite, and a chat with the friendly locals.
Final Tip
Breathtaking and unspoiled by commercial tourism, the Izmir to Dalaman route is definitely an unforgettable Asian road trip. While the roads have vastly improved, some Turkish drivers still make a sport out of reckless driving, so remember to be careful.
Does this road trip appeal to you? Don't delay. Hire your dream car today from us and have the time of your life! Book your Izmir Airport car hire to start your journey.
Route Details
Start Point:
Izmir, Turkey
Distance:
146 miles (234.9 kilometers)
End Point:
Dalaman, Turkey
Estimated Days:
5 to 7