Otherworldly Road Trip: the Skeleton Coast, Namibia
The mere name of this destination—the Skeleton Coast—is enough to inspire fear among travelers. Surprisingly, though, the name did not completely stem from a dark, murderous past (that possibly involves pirates)—the coast is named for the seal and whalebones that washed up the shore, as well as the skeletal remains of shipwrecks. Not as morbid, but certainly mysterious. This coast was once called by Portuguese sailors as "the gates of Hell" and by local bushmen as "the land that God made in ange
Despite its morbid name and almost brutish coastal conditions, the Skeleton Coast is actually a wonderful place to drive through. The landscapes vary from charming colonial towns to vast expanses of wilderness. You can begin your Namibian road trip at Windhoek, a German colonial town, before driving up to the Skeleton Coast itself. The coast extends from Swakopmund right to the Namibian border to Angola.
What to See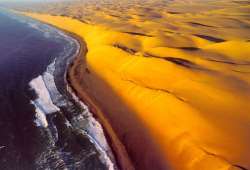 Swakopmund, which is the beginning of the Skeleton Coast, is a surprising place for many travelers who have preconceived notions of Africa. First, it can get cold in this par of the country, and fog typically creeps into the town from the sea. Swakopmund is torn between the scorching heat of the country and the freezing waters of the Atlantic, and the result is a gentle climate that makes visitors feel like they are in a European beach resort.
If you can afford it, you can pay for the Skeleton Coast Camp to get exclusive access to the Skeleton Coast Wilderness Zone, which can be access through a chartered flight. Should your budget be a bit more modest, you can opt for the Namibia Wildlife Resorts to check out the Terrace Bay Camp (still within the Skeleton Coast).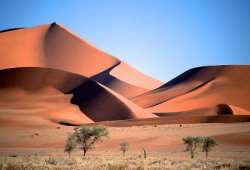 In Sossusvlei you will find the Namib-Naukluft Park (pictured left), with its entrancing flat pans and dunes. However, you can only explore this part of the region through a 4WD vehicle. Another worthy stopover is Kolmanskop, a diamond mining town closed down in 1956. This is quite near your end point of Luderitz, but a special permit has to be secured before you can be allowed to explore the town.
Luderitz seem to be completely out of place in Africa—this colonial town is very much like Europe, thanks to the German colonial influence. There is a town museum, and the local Sea-View Hotel Zum Sperrgebiet offers a relaxing day lying at a covered poolside and leafy terraces.
Final Tip
Do not let the morbid name of the place scare you—there are plenty of things to see and experience in this little slice of Africa.
Does this road trip appeal to you? Don't delay. Hire your dream car today from us and have the time of your life! Book your Windhoek Airport car hire to start your journey.
Route Details
Start Point:
Windhoek, Namibia
Distance:
424.15 miles (682.6 kilometers)
End Point:
Luderitz, Namibia
Estimated Days:
5 to 7