10 of the World's Strangest Lakes
Lakes are some of the biggest attractions for tourists' world over. They have distinct features that include being salty; fresh, some are small and some bigger than normal. These are some of the features that make the lakes strange to grab attention. You might have been used to that small lake in your locality without knowing that there are many strange ones found in different parts of the world.
Read through this article to know about 10 of the world's strangest lakes. Don't be surprised by what you learn because it's plain truth.
Boiling Lake, the Dominica Republic
This is in the Dominica Republic and not a good place for you to consider swimming. It keeps on boiling thus its waters are extremely hot. Frothing maelstrom is at the central point of the lake thus it's extremely unsafe, the edges of the lake are safer when compared to the centre, but temperatures still average 80 to 90°C. The temperature at the centre cannot be measured. This lake came into existence as a result of volcanic activity thus it is unstable and crossing over it is one of the most dangerous things to do on earth.
Laguna Colorada, Bolivia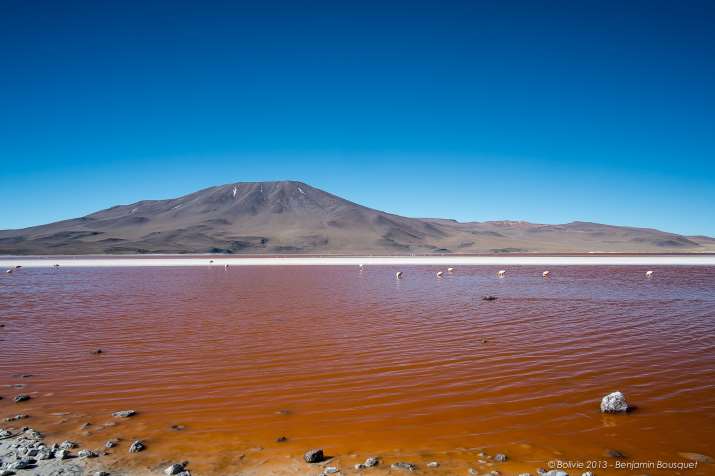 This strange lake is in Bolivia. It has red coloured water which is a very rare thing to happen in the world. Within the lake, there are several white islands that have borax which is like a detergent. Even with that, this lake is full of flamingos which are known to love the waters and it's one of the things that visitors come to see. You will be able to see a variety of flamingos' species because they flock there in big numbers.
Lake Manicouagan, Canada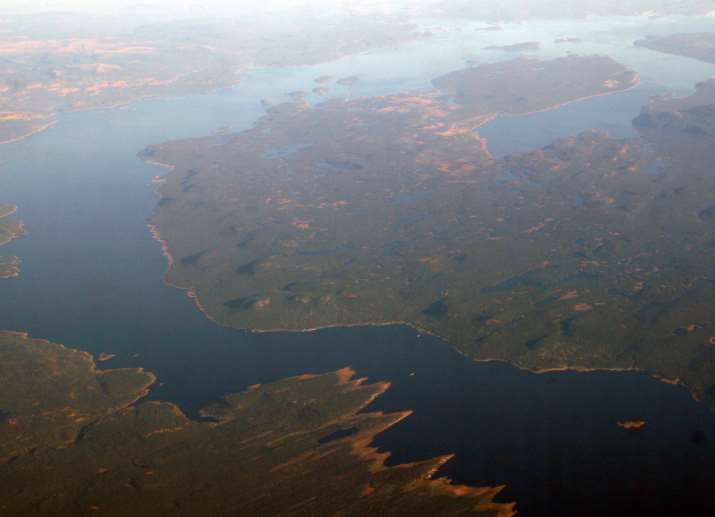 You will find this strange lake in Canada and it sits on a landmass measuring 1,942 km². Mount Babel is the highest point of this lake and the place it sits on is a remnant of an impact crater that eroded many years back. It later increased in size after Lake Mouchalagan flooded as well as construction of the Daniel-Johnson Dam. Furthermore, this lake acts as the source for the Manicouagan River and feeds several neighbouring hydroelectric stations with water.
Lake Superior, North America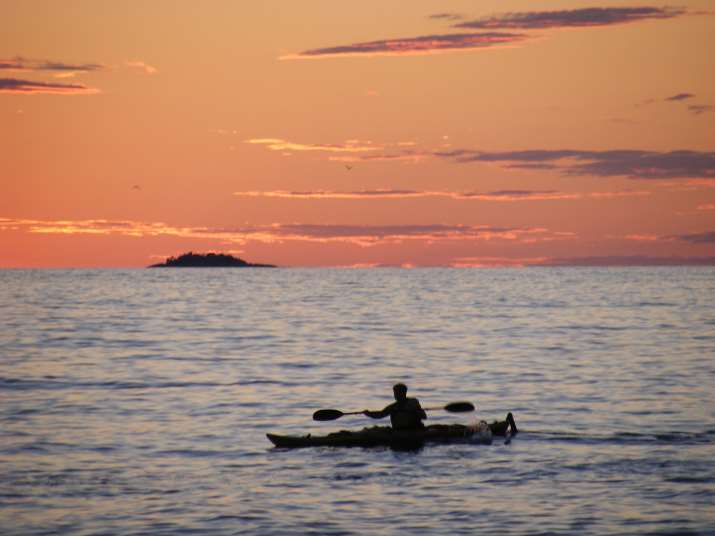 Only brave surfers get to visit this lake and do their thing. The waves there are usually very strong but only in the winter season as water ranges between 0 and 5°C. Water at this lake is mostly cold and those who dare to surf have to lubricate their faces with oil in preventing frostbite. Compared to an ocean, water at Lake Superior is very unstable and ice will be seen freezing on cloths and other body parts of surfers.
Lake Natron, Tanzania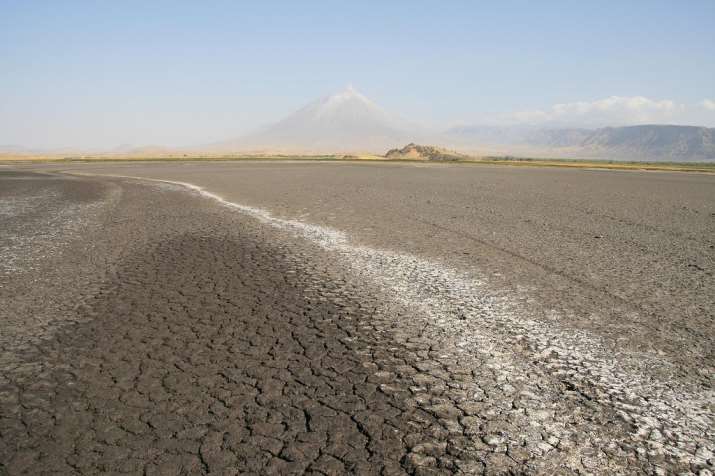 This is a very salty lake found in Arusha, Tanzania. There is high evaporation that occurs around this lake thus its colour is a characteristic of that. This causes the salinity levels of the lake to go up in summer giving room for microorganisms that thrive under such conditions to prosper. Even though the high temperatures at the lake make it impossible for animals to thrive, there are many birds, invertebrates and endemic algae that are found at this lake. There are also some fish species that thrive on the margins of the lake since salt levels are a bit low.
Lake Baikal, Russia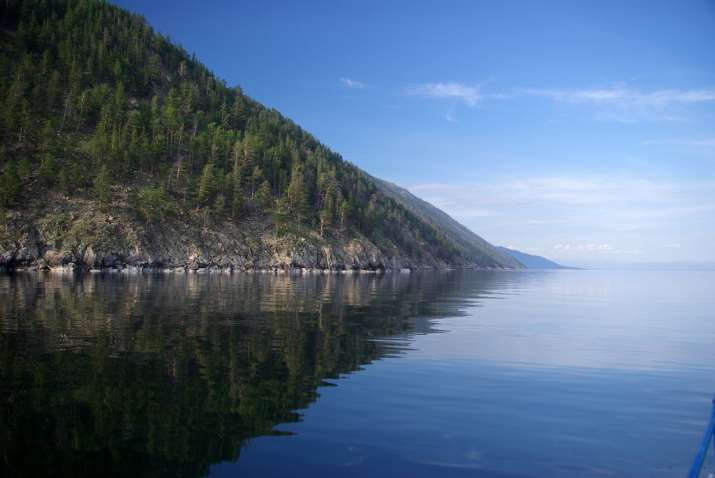 This lake is strange for the simple reason that it is highly saturated with methane. Anytime melting occurs, there are geometrical circles that are formed mostly during spring. A big circle can extend for up to 2 miles in measurement of diameter and cannot be easily viewed from the ground. Not even from the mountain top that these circles will be visible as that only happens from space. It is a very strange lake that can allow for the easy landing of an UFO.
Lake Resia, Italy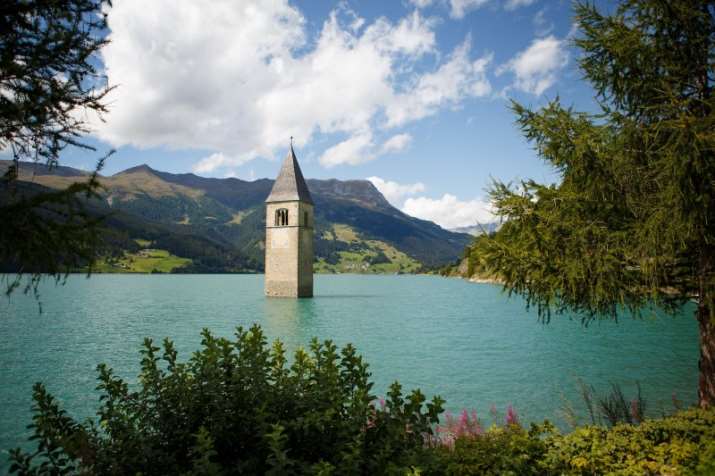 You will get to experience this strange lake anytime you are visiting northern Italy. It was formed in the 1950's following damming of the nearby river and many villages were submerged as a result of that activity. The only building that remained was a Church Tower and it stands imposing over the lake to date. The tower is only visited during winter since water is frozen. The strangest thing at this lake is the church bell which continues to ring despite having been removed a long time ago.
Jellyfish Lake, Palau
This is found in Palau and has one of the biggest populations for jellyfish across the world. This is attributed to its isolation from the ocean and absence of predators. The rates at which they reproduce and thrive are astounding and keep on migrating from one end of the lake to another on a daily basis. It is a spectacular scene seeing millions of jellyfish form big swarms for migration and that has attracted thousands of tourists to the lake. It is very strange because seeing such a thing happen in any part of the world is impossible.
Pitch Lake, Trinidad
The lake is in Trinidad and is made up of pure asphalt. Its depth measures 75 meters and sits in an area of 40 hectare to make it the biggest natural reservoir for asphalt in the world. Walter Raleigh is the person behind its discovery in 1595 and he was able to find a proper use for the asphalt. The bitumen was used for furnishing wood panelling used in ships. Make sure you have visited this strange lake when in La Brea, the south-west parts of Trinidad.
Lake Hillier, Western Australia
This is an unusual lake found in Western Australia and has been famed for its pink-coloured waters. To date, scientists are still struggling to know the reason why the waters have such an unusual colour. Many speculations point to the presence of algae even though some studies dismiss that notion. A white salt belt surrounds this lake with evergreen forest of eucalyptus also forming part of the surrounding. All in all, it qualifies to be a strange lake of the world.