Family Holiday Destinations: Paris, France
Known as a wonderful place for lovers, the City of Lights—Paris—is also perfect for an unforgettable family holiday. Instill the wonders of one of the most beautiful places in the world in your children on a family holiday that they will never forget. Here are some of the best things to see and do on a family holiday in Paris, France.
Charming playgrounds and parks
Paris is not exactly known as a child-friendly destination, but there are plenty of parks and playgrounds tucked around in several locations within the City of Lights. One popular landmark in Montmartre is Le Mur des Je t'Aime, a huge expanse of mural spelling out the words "I Love You" in 250 different languages. The Square Suzanne Buisson and the Marcel Bleustein-Blanchet (also known among locals as the Parc de la Turlure) are perfect for an afternoon of relaxing (and enjoying the beautiful views of the city) for the adults, and running around and exploring for the children.
Parc des Buttes-Chaumonts (shown right) is another great location—children will definitely enjoy exploring the cluster of trees, the grotto, and the Temple de la Sibylle, perched on a peak in the middle of a lake.
Aside from getting their Indiana Jones on, children can also enjoy picnics on the beautiful lawn, puppet shows, a carousel, and more playgrounds.
The Eiffel Tower
No visit to Paris is ever complete without the Eiffel Tower—especially for families that want to enjoy sweeping panoramas of the city. However, make sure that you get tickets online before going—especially if you are going during the summer, which is the peak season for this world-renowned attraction. If your children are scared of going up the tower, you can admire the impressive structure from the ground at the scenic Champ-de-Mars park.
See the world's favorite mouse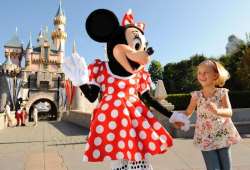 Mickey Mouse is very much a prominent figure in Europe, as proven by the millions of people visiting Disneyland Park and Walt Disney Studios Park. Located in Marne-la-Vallée, the 4,800-acre Disneyland Paris has two theme parks, seven resort hotels, a golf course, and a railway station.
Must-try attractions include the Disney Village (a dining, shopping, and entertainment area), Golf Disneyland (with 9- and 18-hole courses), It's a Small World, Big Thunder Mountain, Buzz Lightyear: Laser Blast, Space Mountain: Mission 2, Pirates of the Caribbean, The Twilight Zone Tower of Terror, Rock 'n' Roller Coaster starring Aerosmith, Indiana Jones and the Temple of Peril, RC Racer, Alice's Curious Labyrinth, and Adventure Isle.
Go on an art tour
Paris is home to impressive and priceless art collections, and it would be a waste to not see them while you are there. Older children and teenagers will definitely enjoy the collections of the Musée d'Orsay (shown right), Musée du Louvre, Musée de l'Orangerie, Musée Rodin, Musée Picasso, Musée de Cluny, the National Museum of Modern Art, the Musée Marmottan-Monet, and the Musée de Sevres, among others.
Many companies offer private art tours facilitated by art professors and historians, and a tour could be customized for you and your family.