5 Great Beaches for a Family Holiday in Spain
Beaches are ideal vacation spots for families. Apart from the sun, sand and the beautiful water of the seas and oceans the beaches also provide people with opportunities to indulge in a variety of fun and interesting activities. Some of these activities can be enjoyed by the whole family as well. Also, there are many luxurious resorts and hotels attached to the top beaches in the world.
These resorts offer people with a wide range of facilities and help them to enjoy the best vacations of their lives. The beaches are spread in places across the planet. In this article, we present to you some of the best beaches for traveling with kids.
All of these beaches are located in areas that are fun for kids and offer a wide range of entertainment activities near the beach itself. They also offer miles and miles of fine sand and crystalline waters ideal for swimming, water sports and games. Some of them are even close to theme parks and water parks.
1. Zahara in Cadiz, Spain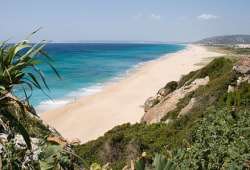 Located in the Brena Natural Park, Zahara Beach is more than 6 kilometers long and is situated between the village of Zahara and Cape Grace. It is ideal for swimming and sunbathing. The kids will love playing with its fine sand and the beach also offers a variety of other activities that can be enjoyed by the adults. It is also near two water parks namely The Bay Park and Aqua Park.
It is truly a beach that will offer you with a memorable experience. The restaurants near the beach serve great food, especially sea food.
2. Central Playa Isla Cristina in Huelva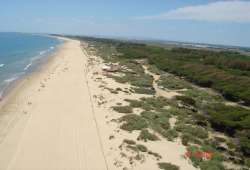 In this beach every summer there are shows and attractions that are enjoyed by families from around the world. There is a playground where the kids can unleash their imagination. On a parallel path to the dunes we see very curious species of native fauna.
The beach is also famous for its resorts which are world famous and provide all inclusive deals to families. If you looking for a beach which is quieter and more secluded you can travel to Playa De Casita Azol, which is situated very nearby and remains isolated most of the times. Facilities such as toilets, showers, lifeguard posts, café etc. are available in these beaches.
3. Burriana Beach Nerja in Malaga, Spain
This beach was made famous by the filming of the famous Spanish television series Verano Azul. Situated in an environment in which we see a beautiful landscape of mountains and cliffs, this beach has a playground on the sand and a beach library that lends books to the visitors.
The beach also offers a wide range of games to the children and helps them in staying entertained and occupied while the adults can enjoy swimming in the clear and turquoise waters of the sea. The restaurant near the beach has a menu especially for children and it also serves ice creams and other delicacies loved by the children.
4. Playa del Ingles in Gran Canaria, Spain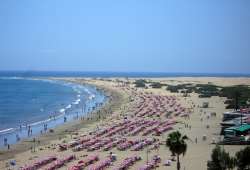 This beautiful beach, which is known for its Fine golden sand, is considered a Natural Park. There are a wide range of activities which can be enjoyed by families that travel to this beach.
Nearby there are two theme parks: Holiday World and Sioux City and a water park called Aqualand.
5. Alcudia Beach in Mallorca, Spain
It is the largest beach in the Balearic Islands: and offers 7 kilometers of fine white sand. It is ideal for swimming and leisure and is very safe, no waves reach its shore making it ideal for families with children as they can swim in peace.
Nearby there is a water park called Hidropark that offers a variety of fun rides and activities.