10 of the Strangest Restaurants across the World
Do you consider the type of restaurant you choose to have a meal? If not, this is the time to start doing things differently because some of these places are very strange. You might sit down in a restaurant but lack appetite by just the way it appears. The location, interior decorations and even general looks might make you feel uncomfortable and regret your choice.
Take a look at 10 of the strangest restaurants across the world and see if they are places you can consider having your meals.
Cabbages and Condoms, Thailand
The second name of this restaurant in Bangkok just makes it more of abusive and lacks respect for visitors. The decoration inside this restaurant is condom-themed which is not very comfortable with many visitors considering it's a restaurant. The memories associated by a condom are not good ones to have when eating. Interestingly, visitors are invited to take a condom right after they are through with their meal while staff sometimes wear inflated condoms. It is truly a strange restaurant to consider having meals at.
Hospitalis, Latvia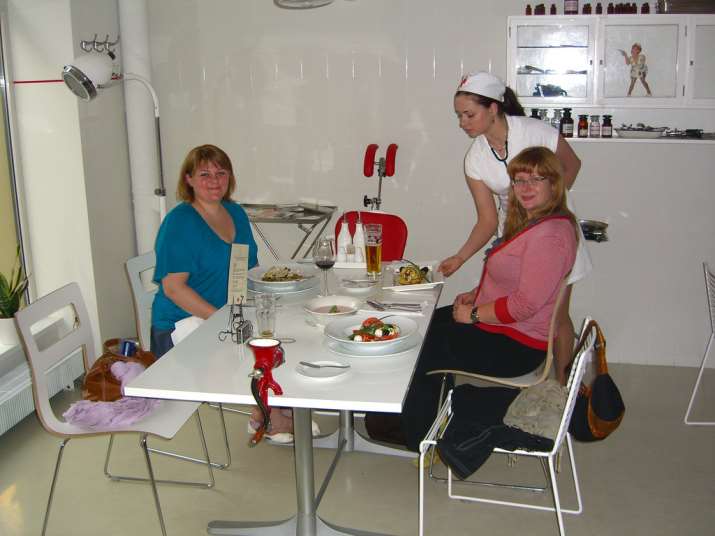 This restaurant in Latvia has a hospital theme and considering many people fear hospitals, it's strange to associate a restaurant with that. Waitresses at this restaurant usually wear a nurse's uniform while waiters are dressed like surgeons. When you are there as a visitor, expect to get equal treatment to a patient even though you are not sick. Surgical utensils are used to serve meals at the restaurant with seasoning is done using syringes. Those people who regularly eat at this restaurant have now done away with the phobia associated with hospitals.
Kayabukiya Tavern, Japan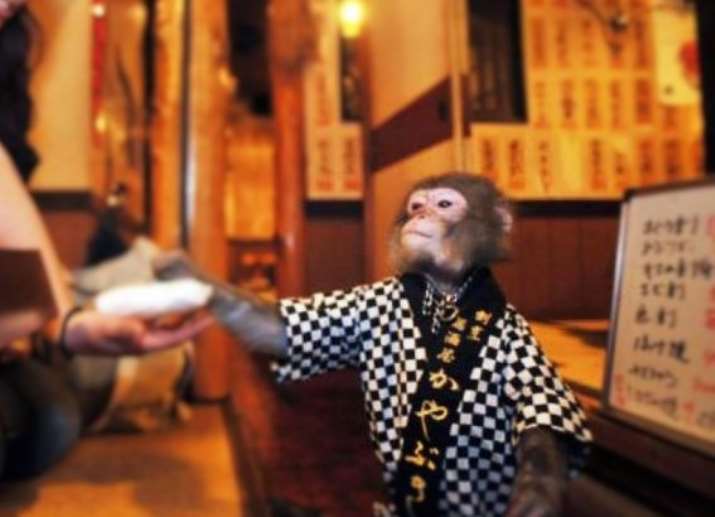 When strange restaurants are listed down, this one in Japan will surely be part of the list because it has monkey waiters serving customers. Fuku-Chan and Yat-Chan are the two monkeys employed by the restaurant as waiters are learnt the act of customer service through observation. Most of their work involves serving customers with drinks as well as bringing towels and bills after meals. They have their uniforms on and work for only two hours in a single day. Those customers who prefer being served by the monkeys have to plan their visits well so as to coincide with their working hours.
Guo Li Zhuang, China
Meals prepared at this restaurant in China are exclusively from penile parts of animals. It is the first of its kind and a strange one for that reason. Common animals that have their penile parts used in this restaurant include deer, donkeys, dogs, snakes and horses. Secretive medicinal recipes from the Guo family are used to prepare the meals that most of the visitors say are very delicious. The other interesting aspect of this restaurant is that children below the age of 15 years are prohibited. This is because the food can have very dangerous effects on their hormones.
Disaster Café, Spain
Talk of unfavourable eating environment and this Spanish restaurant provides for that. Literally, you will get to enjoy your meal at the restaurant under a 7.8 earthquake. The atmosphere inside the café is shaky all the time and most of the visitors are keen on experiencing the simulated quake. When the quake come calling, visitors are reminded to maintain their balance because they could get whatever is on the table spilled all over. It is still not clear why somebody would want to have a meal in such a place.
Robot Restaurant, Japan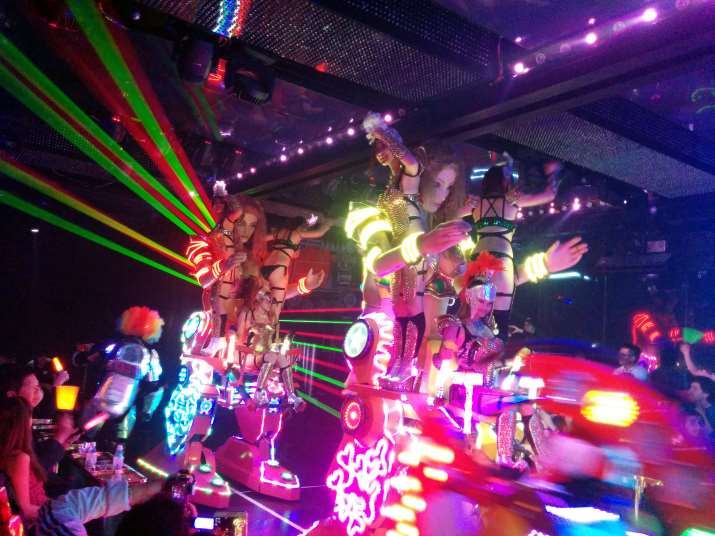 This is found in Tokyo, Japan where visitors are entertained by half-naked women and wild performances from robots. You will only visit the place in case you like having your dinner with thumping beats and strobe lights which is an extraordinary experience. Many restaurants have entertainment for their visitors but this one seems to have gone overboard. You can as well pay a visit to have first-hand experience because looking at pictures will not offer you any satisfaction.
New Lucky Restaurant, India
Located in India, this is an extremely strange restaurant because visitors have meals with the dead. That is very difficult to understand until you have some lunch there. The restaurant was constructed at the middle of an old cemetery for Muslims and its tables are put up alongside the dead. Waiters have to crisscross through graves in serving customers which is something they are now used to. Those who eat there can rarely breathe well owing to the presence of dead people. It's not for the fainthearted.
Magic Restroom Café, USA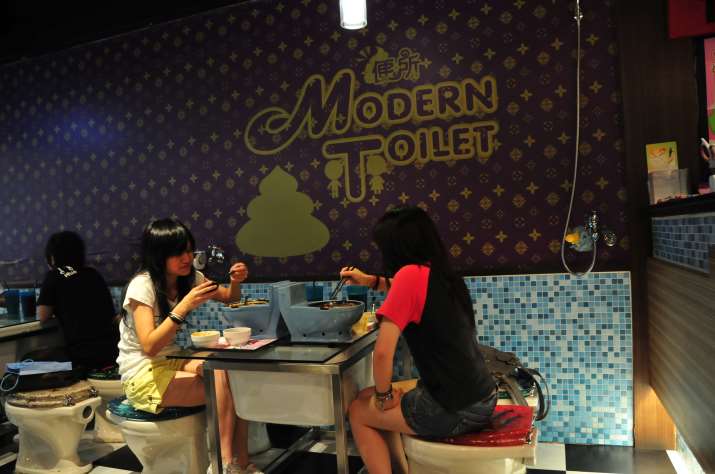 Can you imagine that this is a toilet-themed café in California, America? It is unbelievable because it is the first one to be established in America. It uses toilet chairs for siting while plates are designed in a toilet-style. The menu is very weird as it's inspired by the toilet where you find things like golden poop rice, black poop and constipation. The person who came up with such an idea must have been out of thoughts but it attracts record number of visitors in a day. However, natural toilets are used for a call of nature.
Dinner in the Sky, Canada
This is an awesome restaurant in Montreal, Canada. As the name suggests, visitors are airborne and are raised using a crane that has dining chairs. The restaurant is around 160 feet up in the skies and every customer has a table, waiter and anything else that is critical for an enjoyable meal. This mobile restaurant is slowly becoming very popular across the world as many countries have embraced the idea.
Redwoods Treehouse, New Zealand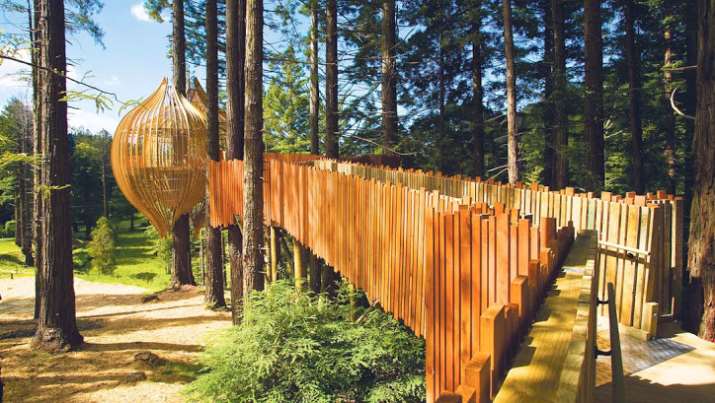 This is a restaurant in New Zealand that is built up a tree. It has been serving customers since 2008 and stands 32 feet above the ground. There is an elevated walkway that allows visitors easy access to the restaurant and only private events are held there. It is not very spacious with a capacity for only 30 people at one time. It qualifies to be among the strangest restaurants in the world.